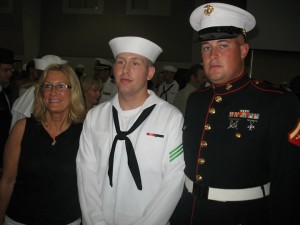 As a Navy and Marine Mom, I possess overwhelming pride when thinking about the service and sacrifice my sons' have given to our country.  I was inspired to create a unique quality keepsake to display in my home and office to honor their achievements.
Military Inspired, Inc. offers commemorative glass giftware as treasured keepsakes for our dedicated and beloved military personnel.
Military Inspired, Inc. is committed to supporting "Made In America".  We are also officially licensed with all branches of the military, returning a percentage of our profits to each branches Morale, Welfare and Recreation Program.
I know you will enjoy our fine quality gifts!  Please join our email list to receive updates as new products become available.